Last weekend I was thrilled to have the chance to be in Walt Disney World. It was a different kind of trip, as I was there with some of the wonderful folks who write for The Affordable Mouse, along with some other great Disney friends. And what a great time we had! It was the opening weekend of the Food and Wine Festival, and the celebration of Epcot's 30th anniversary. It also gave me the chance to see what's new with the Fantasyland expansion….and to see what is coming too! 🙂
So today, I thought I would share a few of the photo highlights of my trip!
With the next phase of the Fantasyland expansion opening next month, we wondered if we would get a peek at any of it, and were rewarded with the chance to see this entrance to the new area that, until a short time ago, was behind construction walls.
You can still see work going on behind the walls….and it is so exciting to see it all coming together!
I also enjoyed seeing the new "dueling Dumbos" over in the Storybook Circus area….
And on a hot day, the Casey Jr. Splash 'N' Soak Station  was a huge hit with kids of all ages!
One of the personal highlights for me was the chance to be present for the 30th anniversary of Epcot. This has always been my favorite park, so being able to be there on this day was very special for me.
Everyone who was there at rope drop received a commemorative park map that showed "Epcot through the years" along with a commemorative button. And while there were a lot of folks who spent a very long time in a very long line to get limited edition merchandise, these items, along with a few other anniversary pins were enough to make me happy…
….along with an IllumiNations that was the best I have ever seen…and having been there on New Years Eve, I have seen some great ones!!!
Of course, Epcot's Food and Wine Festival was a delicious way to spend part of our time too!
We tried so many fantastic items at the different food pavilions around World Showcase…here are a few that I personally enjoyed immensely!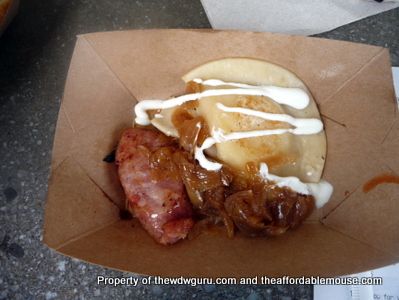 Kielbasa and pierogy from Poland…
Dessert trio from the Dessert marketplace…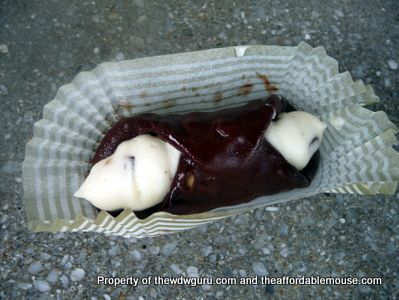 Chocolate covered canoli from the Italy pavilion….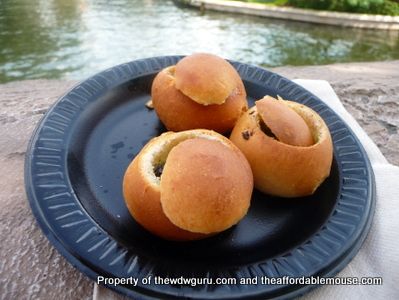 Escargot from the France pavilion….
And my number one favorite, Warm Chocolate Lava Cake from the Ireland pavilion (so scrumptious that it required a second helping the next evening. 🙂
(Many thanks to Kelly for being so diligent about taking food photos: I am always too eager to start tasting, but thanks to her persistence, you have the chance to see a little of what we sampled. 🙂 )
The best part though? Having the chance to share Disney with some special folks who love it as much as we do! Pictured above: Shannan, Kelly, me (Nancy), Debbie, and Jenn (Dis Savvy). Not pictured, but who we were thrilled to also meet up with later, was Adrienne.
Good times, great food, wonderful memories. 🙂 Ladies, you are the best!!! 🙂
Find out how the FREE services of a Disney World travel agent can make planning your Disney vacation simple…and for a limited time, get a FREE Disney gift card when you book your trip with me! ($2000 minimum package cost)