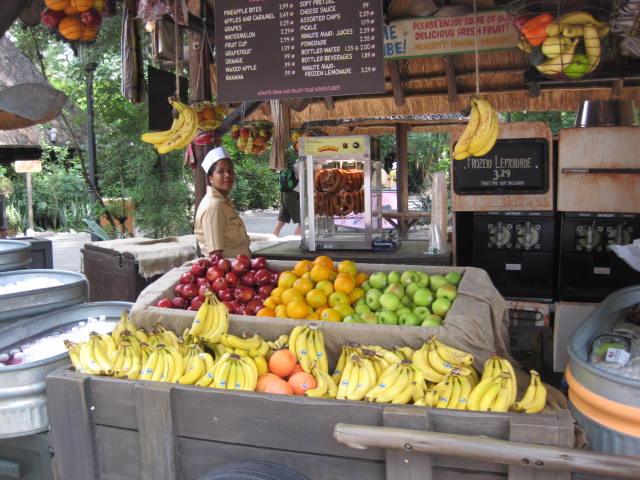 This week we are setting our hungry eyes on Animal Kingdom!  Disney's Animal Kingdom is the largest of all Disney parks, so you need to be in "the know" of where all the tasty, cheapo snacks are!  The AK, as I will call it, is separated into 7 different themed areas  and those lands are spread out across more than 500 acres!
Our first stop in AK is always Everest, and you can't get to Everest without going past Anandapur's ice cream truck where you can grab a soft serve twist cone for $3.19.   Also in Asia is the Yaki & Yeti where you can get the tasty egg rolls for $2.49 each, a basket of fries for $3.99, or a  frozen lemonade (one of my favorites!) for $3.59.
We work our way around the park counter clockwise from Everest (that just works for us, it may not make sense to a lot of people) We don't spend a lot of time in Rafiki's Planet, but I do know there aren't too many food or snack options around these parts so snack up before or after you hop on the train or look around!
We hit up the Africa area next, we love the Safari!!  This is where you will find the lovely Harambe Fruit Market where most of the snacks they sell are healthy AND affordable!  Pineapple bites, apples with caramel, carrots and celery, mixed fruit and trail mix all fall within the $3-$4 range.  There are some choices under $3 as well included whole fruit, chips, and dried cranberries.  They also sell my beloved frozen lemonade here!
Nearby in Africa you can find the Fruit Market's not-so-waist-friendly counterpart, the Kusafiri Coffee Shop and Bakery.  You'll have plenty to choose from here!   Cookies, turnovers, danishes, muffins and bagels all clock in under $3.  For a little more money you can get a fancy pants dessert like an Elephant Cupcake, Zebra Cupcake, or a Brownie Paw, all about $4.  This place will satisfy your sweet tooth, and your coffee addiction.  A regular coffee will cost you about $2, but a fancier version like cappuccino or espresso will be a little more.  At the kiosk nearby you can also score some popcorn for $3.09 or some of those addicting cinnamon glazed nuts for $4.
Over on Discovery Island, you can pop into Flame Tree BBQ for a delicious lunch but if you are just looking for a snack, they do sell fries and onion rings, for $2.49 and $3.79 respectively.  You can find a few of the general snack kiosks around the Tree of Life, they sell all the popular Disney snacks we love (more on that below).
The Lion King show is our absolute fave show in ALL of Disney, which means we are usually over in Camp Minnie-Mickey at least once a trip (sometimes more).  There is a kiosk that sells all sorts of snacks nearby, a favorite is the Worms n Dirt sundae (cookie crumbles, gummy worms, need I say more) that goes for $3.69.  There is usually a popcorn cart nearby too.
Hoping on over to Dino Land, you'll find the Dino Bite Snacks, where they sell yummy churros for around $3.  You can also get chips, cookies, and ice cream here, all for under $5.  Nearby at the Dino Diner, you can get the frozen drinks (they have frozen coke here!) for $3.69. 
Throughout the whole park you can find the snack carts or kiosks that sell the popular Disney favorites like popcorn (about $3), Mickey's ice cream bar ($3.50), Frozen bananas (also $3.50), pretzels ($4), etc.  These carts usually pop up on the way into the part in the Oasis, on the walkways or around bridges, just keep your eyes pealed for them;)  There are plenty of snacks to choose from in this park, and you will definitely need energy to trek around it!   Enjoy!
Find out how the FREE services of a Disney World travel agent can make planning your Disney vacation simple…and for a limited time, get a FREE Disney gift card when you book your trip with me! ($2000 minimum package cost)

Tina works full time as a school counselor in an elementary school. She lives close to Baltimore, MD with her husband Dave and her 13 year old stepdaughter, Ashley. They also have a furry family member, a cat name Frodo, that keeps life interesting in their house! Tina began visiting Disney World as a child with her family, and now her, Dave & Ashley take a trip to the World every year. She considers herself a Disney "fanatic" and once her family is finished one trip, she is already planning their next one. Tina loves to find the best deals, even in the busy seasons (she can only go when schools are off!) and loves sharing those deals & tips with anyone and everyone! What Tina loves most is the magic of WDW, it makes her feel like a kid again. She hopes that every family has the opportunity go to the World and experience the magic for themselves because it has a way of reminding its visitors that dreams do indeed come true! Read more of Tina's work on her blog A Not So Bland Life, where she writes about home decor, cooking, couponing, traveling, and and of course, Disney!